How's your week going so far?
Our TuesDate is getting more and more exciting!
We currently have Story, Highlight, and call to Action for the week 🙂
I'd like to add two elements: Adventure(s) and Announcement(s)

Since we just celebrated Mother's Day last Sunday, let's talk about The Power of a Mother's Love.
​
STORY
I grew up with a very loving and nurturing Mama.
Whenever I talk about my Mama, I prefer to refer to her as Mama because she means more to me than just a mother; she's my Mama.
Let me share three of my favorite moments with my Mama. I'm sharing these stories because I know they are so powerful and can potentially create loving relationships. For each moment, I will also share its impact on me decades later.
If you're a corporate leader or an entrepreneur, these stories may give you insights on how to create a thriving culture in your organization.
​
The Great Listener
I went to elementary school just a walking distance from our home. As soon as I got home from school, I would holler and say, "Ma! I'm here. Where are you?"
When Mama would see me, I could see the joy in her eyes. She'd ask me about what happened in school. We talked about anything under the sun. We did this while we were having afternoon snacks or I would follow her while she was watering the plants, feeding our poultry animals, or cooking our dinner.
She loved listening to my stories, and she had the gift of listening to you as if you were a VIP and every word you said was important. This went on for years, from elementary all the way to high school. I went to college in Manila, 14 hours away from our province by bus. Every time I would come home during sem break, my Mama would cancel her appointments so she could be home with me.
​
Impact
Decades later, when I started writing books and giving talks, storytelling came so naturally to me. Those years my Mama listened to me for at least two hours each day prepared me to be the person, friend, author, speaker, and coach that I am today.
​
Loving, Wise, Patient
I have a brother who is two years younger than me. When we were growing up, we fought a lot! Hehe!
We fought over the remote control, who was doing the dishes, etc.
We're blessed we had an older sister who was very patient, loving, and generous.
I felt my brother should obey my commands since I was older than him.
My brother felt I should serve him since he was younger than me.
Thus, we clashed a lot!
Here's how my Mama addressed our fights. She didn't side with anyone.
She would always say, "You're siblings. Love each other. Understand each other."
​
As grown-ups, my brother and I still had some fights and misunderstandings.
Before he got married, he used to occupy the other room in my condo. One time, we had a big fight, and we both didn't want to talk to each other.
If he was the cook for the day, I would stay in my room until he was done cooking. Once he was done, he would text me so I could go to the kitchen and have lunch while he was in his room.
After three days, we were still not seeing each other eye to eye. I was still so pissed off with him, and vice versa.
My Mama is already in Heaven, so I whispered, "Ma, I'll talk to Bet! I'll do this for you because I love you. To be honest, I'm still so pissed off with my brother."
That's exactly what I'll do. Talk to my brother as lovingly and patiently as I could, and we discuss our misunderstanding.
Same thing with my brother. Even if he's still mad at me, he also didn't want us to go days without talking to each other. He also did this out of love for our Mama.
Yes, we talked to each other out of love for our Mama.
Later on, we talked to each other out of love for each other.
Today, my brother and I have a very beautiful and healthy sibling relationship.
He tapped me as his Best Woman on his wedding.
We understand each other. We love each other.
We also know how to fight well. 🙂
​
Impact​
​I'm so grateful to my Mama for being so wise and patient in not taking sides.
She taught us a crucial skill: How to fight well.
The foundation is to fight out of love and to learn to understand both sides.
I realized that knowing how to fight well is such an important life skill.
There will always be disagreements and misunderstandings. Will we sweep everything under the rug? But this may build unwanted resentment.
What if you know how to communicate your disagreement well? You know how to fight well? This will grow you and the other person and will even bond you closer.
This applies to family members, friends, colleagues, etc.
​
Lavish with Appreciation
My Mama showered me with so much appreciation. I remember when I was reviewing for a test because I wanted to transfer to the central school when I was in Grade 5.
My Mama was tutoring me, and one of the subjects was Math.
Every time I would answer a number correctly, she'd say, "Very good, Sha! You're so smart! I love you!"
She'd also kiss and hug me. There were 50 items in that practice test, and I got 49 or all 50 of them correct. Imagine how much appreciation, hugs, and kisses I got that afternoon!
She was consistent. I can't remember a day my Mama didn't show any appreciation towards me. This was the environment I grew up in.
​
Impact
I was in the Maldives in March to speak at a convention.
After dining with my fellow speaker friends at a nearby restaurant, I hollered at the waiters as we headed towards the door. I waved goodbye to them and said, "Thank you!"
My speaker friend looked at me and said, "I love what you just did. You took time to say goodbye to the waiters and thank them. You're so appreciative."
I smiled because I didn't even realize what I did. It was just so natural to me.
I am grateful to my Mama for displaying how to be appreciative.
​
HIGHLIGHT
Much of who we are was shaped by the culture we grew up in. Good news! We can create the culture we want.
My parents created a family culture where everyone in our family feels safe, seen, and appreciated.
We made time for each other. We listened to each other. We shared meals together, went to Mass on Sundays, and prayed the Angelus daily at 6 PM.
Our family is not perfect, but I could say it was a healthy, happy, and loving environment to grow up in.
​
Special Message
Mother's Day can be a joyous occasion for many.
However, it can also be a painful time for some, particularly those who do not have great mother-child relationships.
‍
It can be a sensitive event for couples who have been praying to conceive, but whose prayers have yet to be answered.
It may also be a sad day for those whose mothers have already gone to be with the Lord.
No matter what the state of your heart is on this special day, remember who you are and whose you are. You are a child of God. You are enough. You are deeply loved.
​
Call to ACTION
The good news is, we can create the culture we want in our family, among our friends, and among our officemates. We can unlearn some of the cultures we don't want to retain.
What kind of family do you want to build?
What kind of friendships do you want in your inner circle?
What kind of workplace environment do you want for your team?
The possibilities are endless! The possibilities are exciting!
​
I wish you fearless possibilities!
​
Sha Nacino
Keynote Speaker l Author l Adjunct Faculty, Asian Institute of Management
​
P.S.1 I've talked to a lot of corporate leaders and a lot of them struggle with disconnect between the leadership team and the employees. Employees feel unseen and therefore they stay silent during team meetings. Leaders feel frustrated because they can't seem to 'feel' their team members. This results to low employee engagement, low productivity, and stress among leaders. If this is a concern in your company, I'd love to help. I have over a decade of experience helping leaders and organizations build a culture where everyone feels safe, seen, and appreciated plus a lifetime of experience immersed in this kind of culture. Let's talk. You can book a free call with me here https://shanacino.com/call​
​
​P.S.2. Our TuesDate newsletter has been inspiring growth since 2011 and we are seeking sponsors to help us continue providing valuable content for free. By partnering with us, you'll have the opportunity to increase your brand's visibility and connect with potential customers. Join us in fostering a community of personal and professional growth, and let's grow your business together! Visit this link ​
​
ADVENTURE
Last Sunday, I and my friends went hiking in Hulugan Falls, Brgy. San Salvador, Luisiana, Laguna.
The Hulugan Falls was 285 feet high. The water was so cool and relaxing!
​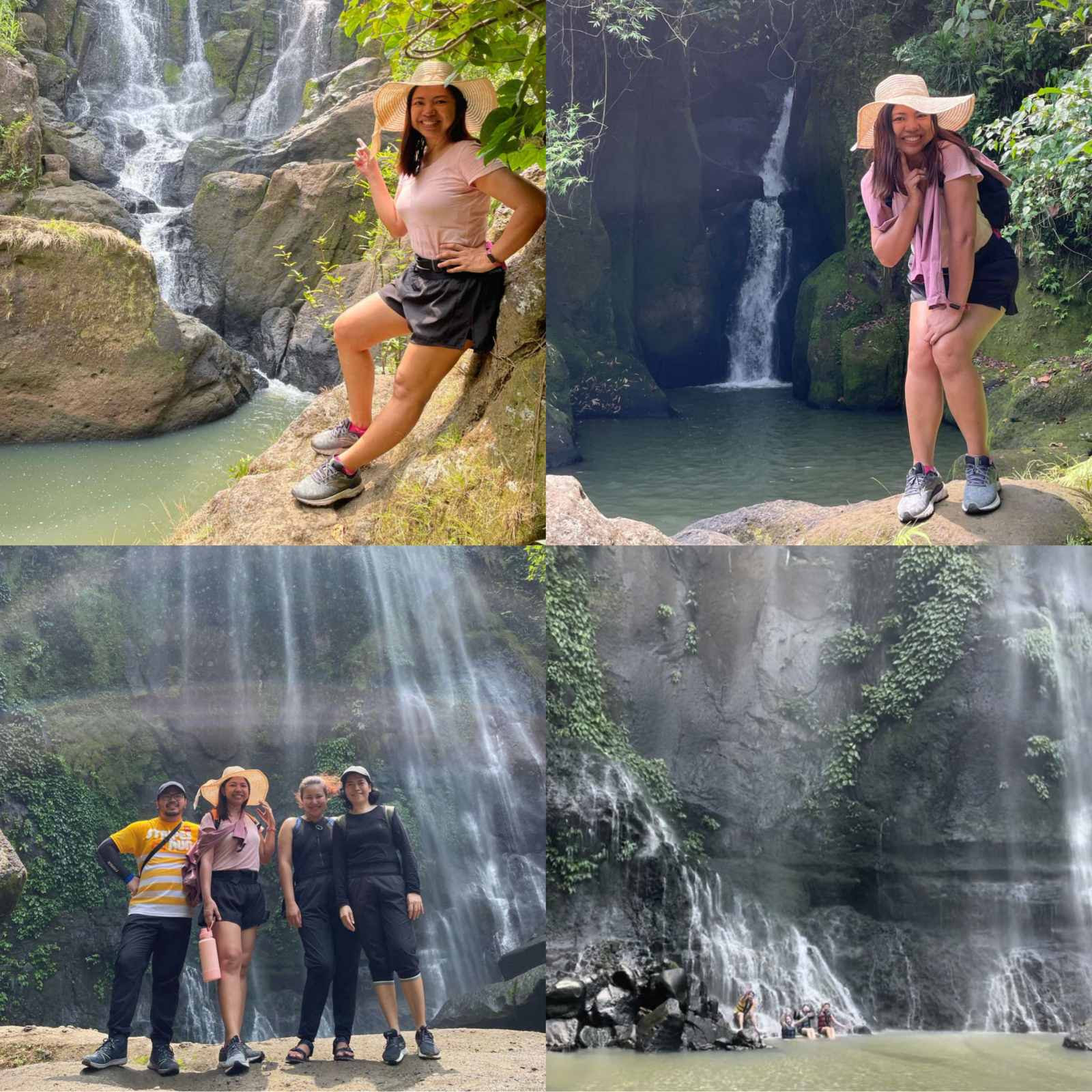 Hulugan Falls, Brgy. San Salvador, Luisiana, Laguna. Simply Waze your way there, then there are tour guides who will meet you once you're there. Enjoy!
If you know of any beautiful places to explore that is driving distance from Manila, please share with me by replying to this message. Thank you!
​
ANNOUNCEMENT
We are launching a new passion project real soon — the Fearless Possibilities Podcast!
The goal of the podcast is to inspire you to turn uncertainties into opportunities and unleash your untapped brilliance.
More details coming soon!
​
​
​